Donate
I donor campaign has just begun and here is why you should make a contribution today…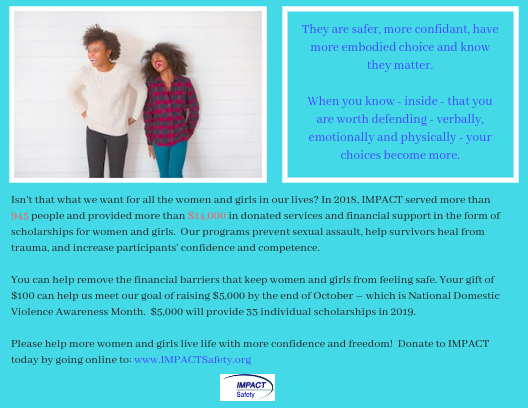 In 2018, IMPACT served more than 945 people and provided more than $14,000 in donated services and financial support in the form of scholarships for women and girls.  Our programs prevent sexual assault, help survivors heal from trauma, and increase participants' confidence and competence.  Isn't that what we want for all the women and girls in our lives? 
You can help remove the financial barriers that keep women and girls from feeling safe. With even a small gift of $100 you can help us meet our goal of raising $5,000 by the end of October – which is National Domestic Violence Awareness Month. With your support, we will be able to provide 33 scholarships in 2019.
Please help more women and girls live life with more confidence and freedom!  Donate to IMPACT today
Make a donation to help us continue to make these programs available to everyone, regardless of ability to pay.  Safety should be a right, not a privilege…
Take a Class With Us!
We offer a variety of empowered self-defense programming for individuals, workplaces, and community groups.  See what programs we have coming up and REGISTER HERE.
Become an Instructor
Instructors work to give people the skills they need to be safe and create change in the world.
IMPACT Safety seeks part-time "Suited" and "Whistle" Personal Safety Instructors. This position requires extensive training as work is performed as part of a teaching team. Work involves teaching people of all ages the emotional and physical personal safety skills of awareness, boundary-setting, and full-force physical defense skills. Preference given to individuals with diverse backgrounds, and IMPACT graduates/assistants.
Preferred Minimum qualifications for Instructor Candidates:
Bachelor's degree/related educational experience
Some experience with teaching, counseling, martial arts, athletics, youth development, work with trauma survivors, criminal justice, or personal safety
Demonstrated capability in working with people of all ages, gender and nationalities
Ability to respond appropriately to emotional or crisis situations
Ability and willingness to teach a physically and emotionally demanding curriculum
Ability to synthesize information and participate in the feedback process
Possesses self-awareness, self-confidence, understanding of professionalism
Ability and willingness to provide support to individuals of all ages through a training process that at times may be difficult and emotionally charged
Experience working with people with physical and intellectual disabilities is a plusCompetency or Fluency in Spanish, and/or ASL is a plus
Emotionally intelligent and has the ability to set and maintain boundaries
Excellent communicator
Schedule flexibility, especially during daytime hours
Reliable transportation, email, and cell phone
Availability to receive and respond to communications during business hours
Please see our Recruitment Page or contact us for more details.
Become a Course Assistant
IMPACT Safety Assistants help the class run smoothly, serve as an anchor to other students, and help model strategies and techniques.  This is an invaluable position that is a necessary component to all IMPACT Safety programs.
Overview of Assistant:
Training Overview:  In order to become an Assistant you must complete a FREE, 4-hour training facilitated by IMPACT Safety instructors.  A training date will be scheduled soon.  Donate your time with IMPACT and support our 25 years of teaching empowerment self-defense.
If you would like to join our team contact us at info@impactsafety.org.
Americans with Disability Specifications
Physical Demands:
These are representative job tasks that must be met to successfully perform the essential functions of this job. Reasonable accommodations may be made to enable individuals with disabilities to perform the essential functions.
In  performing the job duties; the employee is occasionally required to stand; walk; sit; use hands to finger, handle, or feel objects, tools or controls; reach with hands and arms; climb stairs; balance; stoop, kneel, talk or hear; taste or smell. The employee must lift and/or move up to 100 pounds. Specific vision abilities include close vision, distance vision, color vision, peripheral vision, depth perception, and the ability to adjust focus.
Additional physical demands include modeling and teaching full-force self-defense techniques including knee strikes, elbow strikes, use of hands and arms in self-defense and kicking. Suited instructors must be physically able to move while wearing approximately 50 pounds of body armor and, while wearing the armor, sustain full-force strikes to the head and groin area.
Work Environment:
Work environment characteristics are representative of those that must be met by an employee to successfully perform the essential functions of this job.
Reasonable accommodations may be made to enable individuals with disabilities to perform the essential functions. The noise level in the work environment is usually moderate to loud.
If you would like to join our team contact us at info@impactsafety.org.
Give Us a Yelp Review!
Did you know that Yelp is the #1 search engine on the internet? Help people find IMPACT Safety by giving us a review. Let everyone know what class you took and how it changed your life!  Each review helps us reach a wider audience. Click the button below…
Sponsor
There are ways you can sponsor a person to take one of our courses or help bring a program to a group or organization.  Contact us at info@impactsafety.org to discuss your sponsorship ideas with us.
Refer
Spread the word about IMPACT's programming to organizations, businesses, groups, schools, or people you know.