Own Your Own Voice
Date/Time: February 24, 2018 from 9:00AM-1:00PM
Location: Columbus, Ohio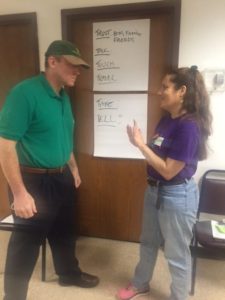 Participants will:
Learn non – verbal, and verbal skills for increasing their safety in everyday situations.
Participate in role-play scenarios to help participants learn and practice different choices in assessing their risk and using their own strengths.
Gain increased confidence, and practice setting boundaries.
Invest in your safety for only $75!
Payment plans and scholarship options are available.
Program Registration: Your deposit secures your spot in a course. Early enrollment discounts apply for most programs.
Cancellation/Refund AND Transferring Registration Policy: If notice of cancellation of registration is received in written form (snail mail or email) more than two full weeks before the first day of class, there is a full refund minus $50.00 of the deposit.
If notice of cancellation is received less than two weeks before the first day of class, the deposit and tuition is non-refundable. Your deposit and tuition can be applied for a future program for yourself or someone else. If you fail to show up for class, for any reason, on the day class begins, or later, there is no refund or transfer option.
If you have extenuating circumstances (e.g, illness, funeral), please provide a doctor's note or other documentation to our office. We will work with you to determine how best to address the situation.