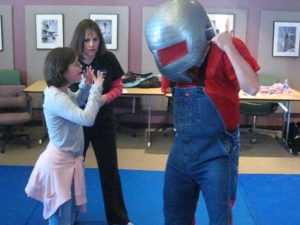 Ryan Young currently serves as the senior suited instructor for IMPACT Safety, having co-led instruction of empowered personal safety, boundary setting, and physical self-defense skills & strategies with IMPACT since 2004.  He has worked with thousands of students over many classes, in various cities.  He has worked with various chapters – from IMPACT Bay Area (California) to partnering with the London IMPACT chapter.  Ryan served in two special projects: Instructor of Beauty Bites Beast Tijuana, Mexico (July, 2006) Instructor of Amnesty Int'l. Women's Safety Project, Juarez, Mexico (December, 2006). For the past 10 years, he has also served as an adjunct Self-Defense Instructor with Denison University.
An educator by passion and trade, Ryan has been active in the field of Education for over 15 years.  He has served as a preschool director, classroom teacher, basketball coach, instructional coach, martial arts club instructor, and K-8 building principal.
Ryan's educational degrees come from The Ohio State University and Ashland University.  On the weekends, you will him and his son reeling in catfish from a local lake to bring home!  He holds a 3rd degree black belt in taekwondo, and was a member of the 2001 taekwondo team for The Ohio State University, taking the silver medal in the Big 10 Tournament – GO BUCKEYES!