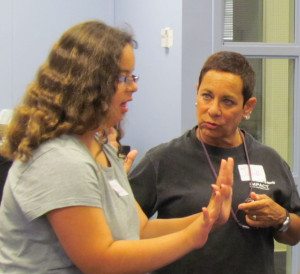 For the past 30 years, Julie has been involved in many aspects of anti-violence programming; from organizational and agency safety policy development to the development of skill based personal safety curriculum and programming implementation.
Julie has an extensive background in psychology, chemical dependency, counseling and training. She has spent more than 30 years addressing the complexity of issues related to personal violence and personal safety. She co-owned a martial arts school for women and children for 11 years, consulted with the National Institute of Corrections, and worked in the public and private mental health system, prior to IMPACT.
She excels in adapting and developing curriculum designed to meet the interpersonal needs of a wide range of groups – from children to adults – to those with special behavioral and cognitive needs to those recovering from trauma. She has overseen the growth of the organization from its inception in 1993.
She is Treasurer of IMPACT International, a network of IMPACT chapters across the world. She has trained staff and communities in various approaches to addressing interpersonal safety; both emotional, physical, organizational and systemic, across the United States, in Mexico and Israel
When not teaching or talking, Julie enjoys digging in the dirt, chocolate chip cookies, ice -cream and sharing time with friends, family and sunshine.