Introduction to Self-Defense for Trauma Survivors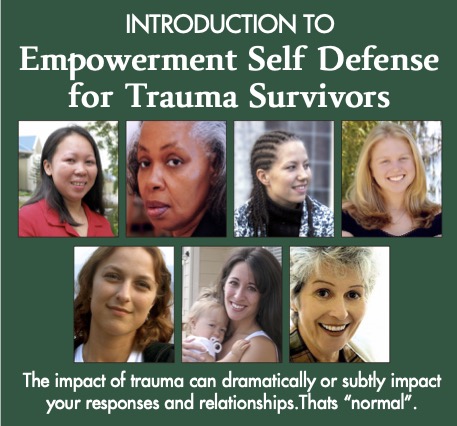 Introduction to Self-Defense for Trauma Survivors
Join us for a workshop that's more than a class; it's a compassionate and empowering experience specifically introducing a holistic approach to self-defense for trauma survivors.
Trigger Warning: This post discusses self-defense strategies tailored for survivors of sexual assault, domestic violence, and related traumas.
What is Empowerment Self-Defense?
Empowerment Self-Defense (ESD) is a holistic approach to self-defense, teaching both physical and psychological techniques to help people—especially survivors of sexual assault and other forms of violence—reclaim their power and feel safe in their own bodies. ESD is a form of self-protection training that uses physical, mental, and emotional strategies to help its practitioners improve their self-confidence, promote personal autonomy, and increase both safety and the joy of being alive.
Uh-oh! We Need Your Help!
We're sorry for any inconvenience, but we just learned that we've been having difficulty with our website and technical setup.
Even if you have previously registered, please register again. While it might have looked like the last one worked, we did not receive your information properly—and we very much want to see you there!
Thank you for your understanding and, again, our apologies for the extra step.
Why Self-Defense for Trauma Survivors?
Many people who have experienced trauma, such as violence or abuse, struggle to feel safe and confident in their own skin. The right self-defense program can help them to regain control of their bodies and minds by providing opportunities to learn how to protect themselves in the event of future attacks. Empowerment self-defense in particular can help students rewire their minds around the idea of violence, releasing deep-seated somatic memories and facilitating the process of integration.
People who train in ESD report that it helps them regain their self-esteem and become better equipped to handle challenging situations.
For every person who has ever felt vulnerable, unheard, or underestimated, this is your call to rise!
Why Is Empowerment Self-Defense Good for Trauma Survivors?
Personalized Healing: Tailored for trauma survivors, our approach helps you understand your "default survivor setting" and guides you back to a balanced state.
Beyond Physicality: Master verbal de-escalation tactics that equip you to handle confrontations gracefully and assertively.
Cultivate Calm Confidence: Learn somatic practices that can be applied anytime, anywhere, empowering you to respond—not just react—to challenging situations.
Inclusive Conversations: Engage in group discussions that address the unique challenges and experiences that trauma survivors face.
Trauma-Sensitive Guidance: Benefit from trauma-informed instructors who understand the nuances of trauma and are committed to guiding you every step of the way.
Self-Defense for the Struggling Brain
Traumatic experiences can literally rewire the human brain, making it difficult to think clearly during stressful situations. Following a traumatic event, the nervous system can get trapped in a "default survivor setting" making it difficult for the body and mind to return to a balanced, relaxed state. This survival mode setting can go on for days, weeks, months, or even years.
Sometimes we need a little nudge to help our brains "reboot" back toward normal, healthy resiliency.
One way to train the brain to move out of its survival state is by learning empowerment self-defense techniques. While traditional forms of self-defense emphasize physical skills, ESD helps practitioners develop their physical and emotional boundaries. ESD also teaches people how to protect those boundaries assertively, with a level of response appropriate to any given situation.
By providing an environment that is safe and supportive, workshops like Introduction to Empowerment Self-Defense can help people learn to access their inner resources in order to effectively protect themselves from harm.
Empowerment Workshop Highlights
We can't cover everything in a four-hour workshop, but we can get you started on a path toward living safer and feeling happier.
Verbal Mastery: We'll practice verbal strategies you can use to address challenging conversations.
Staying Calm and Present: Learn how to increase your ability to remain present in your life, even when you're stressed, so that you can set boundaries earlier, increase your sense of safety, and enjoy your life more.
Role-Playing Scenarios: Practice real-life situations with our trained instructors to ensure you're prepared for anything.
Community Building: Connect with like-minded individuals, build lasting bonds, and create a supportive network that extends beyond the workshop.
Date, Time, & Location
Saturday, September 23, 2023
10:00 am – 2:00 pm
The Levee at LifeCare Alliance, 670 Harmon Ave, Columbus, OH 43223
Open to All Genders.
Minimum Age 18.
Investment
To keep our classes open and accessible to all, we ask that you contribute a donation you can afford, at the highest level you can. Suggested Donation: $100.
Your contributions enable us to create a safe and nurturing environment for all, ensuring that no one is left behind, regardless of their financial ability.
Register Now and take the first step towards empowerment, self-defense, and healing.
Following your registration, our office will contact you to arrange for payment options.
Your Safety, Your Power
This isn't just a workshop; it's a movement. A movement to reclaim your space, your voice, and your power. Join us, and let's make a lasting impact together.